Message from the Dean
Message from the Dean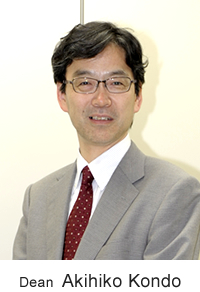 The Vision of Kobe University is to continue working toward our ideal of creating 'harmony between theory and reality' and to endeavor to serve as a center for value creation that will help to solve the issues facing our society both at present and in the future through encouraging outstanding research and research that defies the boundaries between the humanities and the sciences.
With an aim to achieve this vision, we have established the Graduate School of Science, Technology and Innovation as the first interdisciplinary graduate school in Japan which is focused on integrating Kobe University's flagship research areas (Bioproduction, Advanced Membrane Technology, Advanced Information and Communication Technology and Advanced Medical Science) and an education in entrepreneurship. This graduate school has been established through the cooperation of faculty members, both in the fields of social science (Economics, Business Administration, Law) and natural science (Medical Science, Engineering, Agricultural Science, Science, System Informatics).
We aspire to cultivate graduates that will become leaders in promoting innovation in industry through these unique curriculums.