Advanced Information and Communication Technology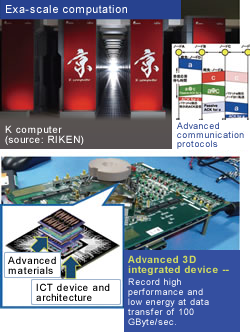 The world-class research and development of information and communications devices and information technology applications utilizing High Performance Computing and IoT(Internet of Things)
Research strengths and achievements:
The development of applications of K computer (a supercomputer) and many core processors and the research of major areas of substance design and energy utilizing the applications.
The research and development by an industry-academic-government alliance in combination with methods to design new functional materials based on computational science and top-tier researchers of information and communication devices design.
Graduates
Typical graduates are expected to bridge the creation of new substances and advanced information and communication technology and to lead effect estimations by multifactorial simulations and devices design and development.
Business creation