Strategic Entrepreneurship
Taking the advantage of being an interdisciplinary graduate school, we cultivate strategic entrepreneurs with science-background who are able to create a competitive enterprise with a global scope.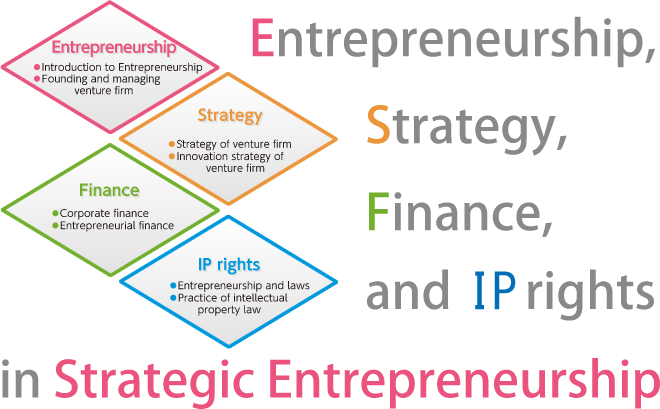 Outline of Subjects
The success of enterprise creation lies on both the aspiration to achieve success and cool and logical strategy. In order to realize the maximum return at the minimum risk, it is essential to have a command of both Strategy and Finance, which are the inseparable pair of enterprise creation and IP rights which is vital to advanced technologies in theory and practice. Students learn tried and true tactics of drastically improving the chances of successful enterprise creation.
Entrepreneurship
With an aim of becoming a strategic entrepreneur with science-background who is able to create a science-based innovation, students master entrepreneurship and the basics of management of venture firms.
Strategy
Students acquire strategy theories (competitive strategy, resource-based view, innovation strategy) and organizational management theory and the practices of those theories in order to seize and sustain sustainable competitive advantage.
Finance
Students study basic corporate finance, making of financial plan, corporate valuation, and design of deal structure, and further master execution skills of finance in enterprise creation thorough case studies and exercises.
Intellectual property strategy
Upon grasping an overview of the intellectual property legal system including patent law and copyright law, students acquire strategic patent application, utilization and protection required in enterprise creation of advanced science and technology through the practice of patent application procedures and employee invention system and the research on license agreement and infringement litigation.
Practical applied skills
On the subject of an advanced science research topic on which the student has already worked or has been working, the student learns practical applied skills (business model, making of practical business plan) to find seeds and ideas of commercialization and to convert those ideas into enterprise creation plan of a venture firm in the advanced science and technology area.